New Nanotherapy Approach to Target Cancer Tumors

June, 2016
A new research has adopted a unique method to improve the efficiency of chemotherapy administered to metastatic tumor. The approach involves subjecting the tumor to radiation and when the radiation triggers expressions of a molecule, striking the molecule with nanoparticles loaded with drugs. The researchers who are experimenting on mice report that vascular barriers that are difficult to break and thus impede the progress of nanomedicines from reaching the tumors can be overcome by the radiation-driven nanoparticles.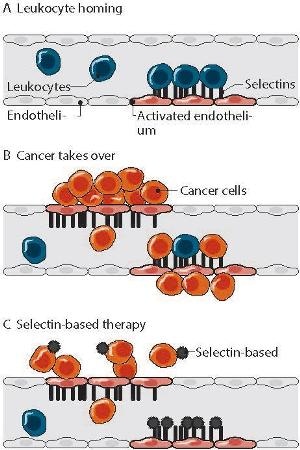 This is a schematic illustration of selectins' role in inflammation (A) and cancer progression (B). This mechanism can be used for selectin-based targeted therapy (C). This material relates to a paper that appeared in the June 29, 2016 issue of Science Translational Medicine, published by AAAS. The paper, by Y. Shamay at Memorial Sloan Kettering Cancer Center in New York, NY, and colleagues was titled, "P-selectin is a nanotherapeutic delivery target in the tumor microenvironment." (Credit: Kedmi et al., Science Translational Medicine)
Cancer cells get hold of adhesion molecules in the bloodstream in order to reach various organs. These adhesion molecules are present in the walls of blood vessels and are known as P-selectins. The team of researchers, including Yosi Shamay, has also discovered that most of the cancers such as ovarian, liver, breast and lung cancers overexpress P-selectin molecules on the tumor cells and the blood vessels that surround them.
With an intension of using P-selectin as a therapeutic target, the team has developed nanoparticles that can carry a drug called fucoidan. A compound derived from seaweeds, fucoidan can naturally tie with P-selectin. When the drug was tested on model mice, with metastatic melanoma, breast and lung cancer, all cancers with P-selectin expression, the nanoparticles successfully administered the drugs to the tumors. This resulted in overall survival and improvement in the reduction of tumors. The use of fucoidan-loaded nanoparticles was more effective than other nanoparticles-delivered drugs and free form of drugs.
For those tumors that do not express P-selectins, Shamay and colleagues used radiation that generally improves the expression of P-selectin in tissues, so as to direct the nanoparticles to the tumors. The use of radiation ensured the reduction of long tumors that do not contain P-selectin, in mice.
In keeping with the topic, Ranit Kedmi and Dan Peer talk about the pros and cons of taking the new approach into the clinics. Though they agree that the use of radiation-guided nanoparticles may deliver a promising scope for administering drugs to all tumors, they state that the involvement of radiation to trigger P-selectin expression can present a problem, as it may accidentally boost the spread of the cancer.
Source: http://www.aaas.org