Genfit has boomed in stock market value by 15% since it announced its novel biomarker system for liver disease Non-alcoholic steatohepatitis (NASH). Phase III trials for its drug Elafibranor will incorporate this biomarker system, negating the need for liver biopsies in diagnosis and monitoring of NASH.

Genfit from Lille (France), has boomed to a €975M public market cap since announcing recent phase IIb results. Also having a Boston base (US) for research and development, Genfit boasts a rich pipeline targeting various cardiometabolic and inflammatory diseases, with a particular focus on the liver. They are currently preparing to launch the phase III trials of their drug Elafibranor (GFT505) for Non-alcoholic steatohepatitis (NASH).
NASH is caused by accumulation of lipids within the liver tissues, which inflame and damage hepatocytes resulting in fibrosis. Overtime, NASH can increase the risk of developing more serious liver diseases such as cirrhosis and even cancer. In the US, the prevalence of NASH is around 12% of the general adult population, with as many as 22% of diabetics also being diagnosed with NASH.
Elafibranor (GFT505) is a dual peroxisome proliferator-activated receptor (PPAR) agonist, which means it targets both PPAR-delta and PPAR-alpha receptors to increase lipid and triglyceride metabolism. In doing so, Elafibranor has many beneficial cardiometabolic effects, the focal effect being a reversal of the lipid accumulation and fibrosis of hepatic tissue in NASH.
In Februrary 2014, the US FDA granted Genfit Fast-track approval for Elafibranor in NASH patients during the phase IIb trial in 56 clinics across France, Belgium, The Netherlands, Italy, United Kingdom, Germany, Spain, and Romania. Results were encouraging and a phase III trial is to go ahead in the final quarter of this year.
During this trial period, a novel biomarker detection system was developed for NASH, by growth of a comprehensive small non-coding RNAs (miRNA) and clinical data library harvested from patient plasma samples alongside liver biopsies. In creation of this mass data-bank, Genfit has crafted 2 statistical approaches to using miRNA as a diagnostic tool from an algorithm which uses up to 70 different biovariables (including already known biomarkers of liver damage), making serum miRNA a surprisingly powerful biomarker for NASH.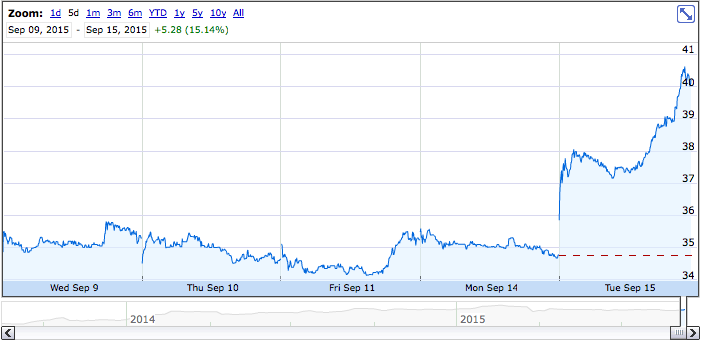 Genfit will incorporate this biomarker system into its phase III trials for Elafibronar, as a massively beneficial alternative to taking direct liver biopsies to diagnose NASH and the exact stage of liver fibrosis. The pros of serum biomarkers (which can be measured with a simple blood test) as opposed to solid-tissue testing, included reduced cost, reduced patient risk and also speeds up the whole process of diagnosis.
This new biomarker system could really be a gamechanger for how liver diseases are studied by other biotechs if the FDA and EMA approve its launch into the growing cardiometabolic market.