Telehealth Gains Momentum In Obamacare Era
May 7, 2014
The Affordable Care Act's focus on population health and cost-cutting is encouraging providers and insurers to invest in remote healthcare technologies.
Once enmeshed in legal and insurance finger pointing and questions about reimbursement, telehealth is flourishing in the era of Obamacare, cost cutting, and consumer-driven healthcare.
Telehealth will generate $2 billion in the US by 2018, Forbes reported. Worldwide, revenue for telehealth products and services is expected to reach $4.5 billion in four years, compared with $440.6 million in 2013, according to IHS Technology.
Sources of growth include busy individuals who prefer the convenience of a video, phone, or other virtual consultation, as well as healthcare providers that use telehealth to augment traditional care. Today,42% of hospitals use telehealth, according to Health Affairs. Some employers offer telehealth as a benefit. Insurers increasingly incorporate this coverage to decrease the likelihood customers will unnecessarily (and expensively) visit an emergency room.
Sponsor video, mouseover for sound
Two years ago, Online Care Group operated in only seven states, said Dr. Peter Antall, a pediatrician and medical director for the telehealth provider, in an interview. Today, the physician-owned organization serves patients and prescribes in 38 states and sees patients without prescribing in eight others — growth he attributes, in part, to Obamacare and its focus on cost-cutting, population health, and patient experience.
[Payers are taking notice of fitness gadgets. Read Could Insurance Cover Your Next Fitness Band?]
"Ten years from now it won't even be called telehealth," says Dr. Antall. "It will no longer make sense for a consumer of a high-deductible plan to go to the ER for pink eye."
Or a sore throat, as sales professional Andrew Kahn discovered before embarking on a ski trip to the French Alps. Instead of taking off more time from work to visit a clinic, Kahn closed his office door. Within 12 minutes, he consulted with a physician via a secure videoconferencing connection and received an e-prescription for an antibiotic for the price of his regular co-payment. "If it was just over the phone I'd have been a bit more skeptical," he said. "But this was high-definition video. If I'd wanted to, I could have read the documents on [the doctor's] wall."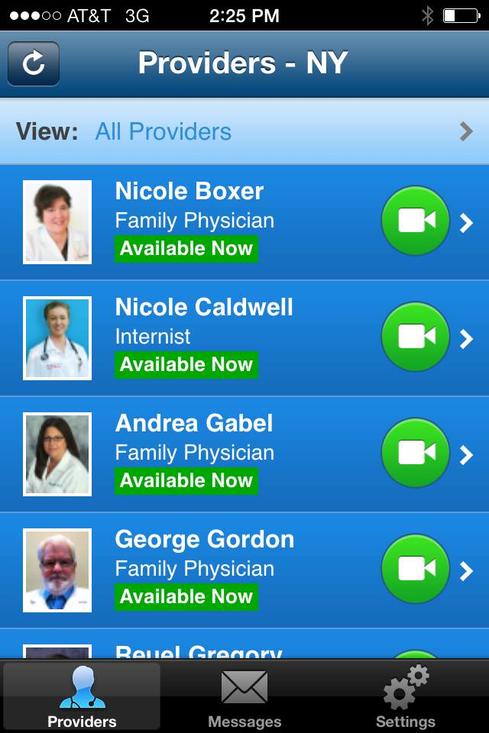 Online Care Group's American Well telehealth service is available on smartphones (like this iPhone), tablets, and desktops.
(Source: American Well)
Insurers, employers, and consumers aren't the only ones embracing telehealth. Some physicians find the model helps them balance home and professional lives or complements their busy practices.
Dr. Nicole Boxer, for example, shut down her busy private general practice when she wanted to start a family. Already accustomed to interacting with
Alison Diana has written about technology and business for more than 20 years. She was editor, contributors, at Internet Evolution; editor-in-chief of 21st Century IT; and managing editor, sections, at CRN. She has also written for eWeek, Baseline Magazine, Redmond Channel … View Full Bio